This article was sourced from Bloomberg. Article by Adam Haigh.
Asian stocks were poised for a mixed start as the yen remained stronger and Australian bonds retreated with investors taking their first chance to react to China's National People's Congress and Federal Reserve Chair Janet Yellen's speech.
The yen strengthened from its level prior to Yellen's remarks Friday and Japanese equity-index futures signaled losses, while contracts elsewhere in the region pointed higher. Premier Li Keqiang set a 2017 growth target of "around 6.5 percent, or higher if possible" in a report to the NPC that reiterated the pursuit of neutral monetary policy this year. Investors will also be scrutinizing Deutsche Bank AG's plans to boost capital.
Yellen joined a chorus of U.S. policy makers who have suggested growth remains on track to warrant tighter monetary policy as early as next week's Fed meeting. Fixed-income markets indicate a greater than 80 percent chance of a hike then, with a monthly jobs report on Friday and a read on inflation the day of the March decision looming as slight risks. While officials have moved forward market expectations for a hike, they have done little to signal that the pace of tightening will quicken.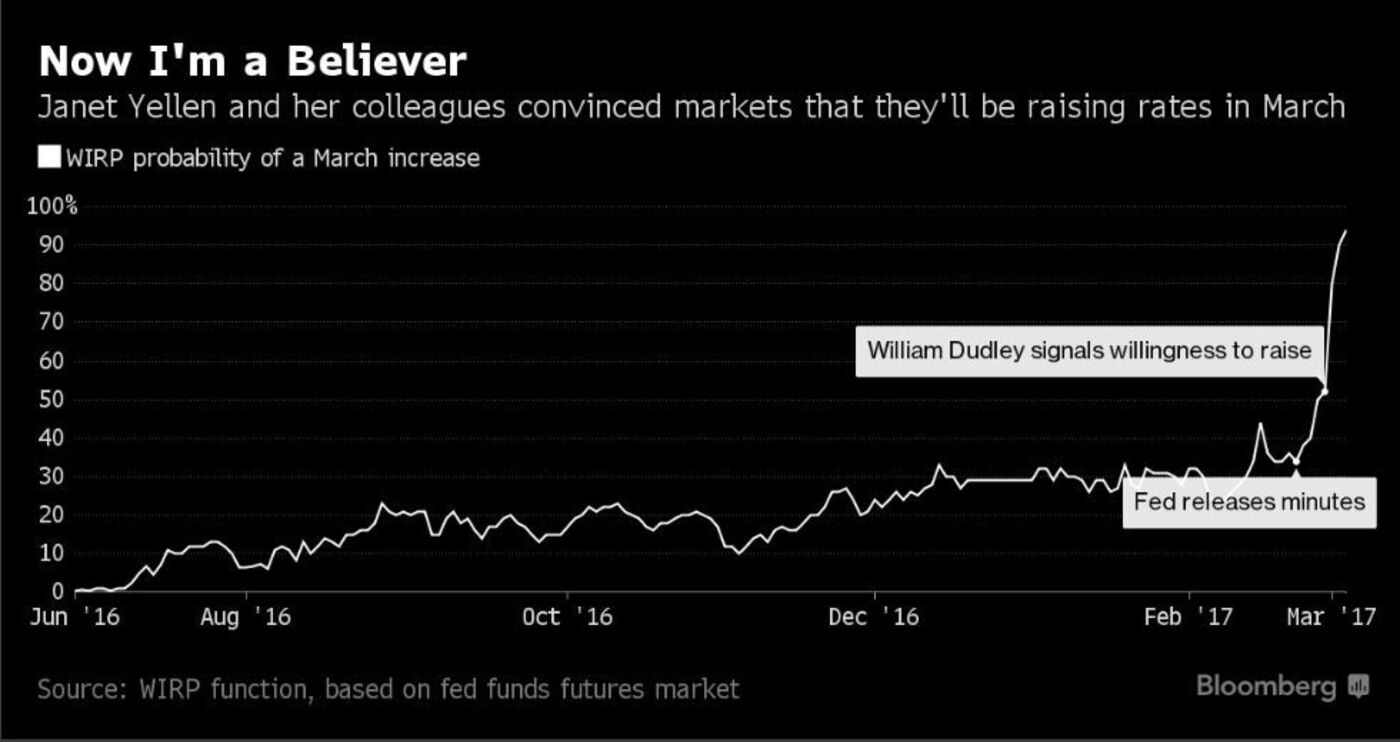 Central banks in Europe and Australia will come into focus this week as the Fed now goes into a quiet period before its decision.
Here are the main moves in markets:
The yen traded at 114.03 per dollar as of 7:22 a.m. in Tokyo. The Bloomberg Dollar Spot Index slipped 0.7 percent on Friday after a five-day rally.
Most recent trading on futures contracts from Friday: Nikkei 225 Stock Average dropped 0.5 percent. Australia's S&P/ASX 200 Index and Hang Seng futures both rose 0.4 percent.
The S&P 500 advanced 0.1 percent on Friday.
New Zealand's S&P/NZX 50 Index fell 0.1 percent early Monday.
Yields on 10-year Australian government bonds rose three basis points to 2.83 percent.
Tell us what you thought of this article by commenting below or connecting with us on LinkedIn or Twitter.